Green Wall
17 m high and 14 m wide, the Cusset green wall is the highest self-standing wall in France. Discover its 250 m² green wall, 11,000 plants and no less than 30 species, ranging from geraniums to ivy, as well as crocuses and many others.
Green Wall
angle du cours Emile Zola et rue Francis de Préssensé - 69100 Villeurbanne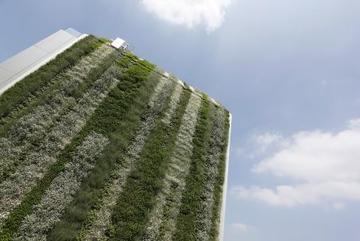 The variety of plant species on the wall enables its appearance to be changed every season. 4 trees, rhus (shrubs with leaves that can grow up to 70 cm), have been planted on the top of each of the metal towers. The wall contributes to animal and plant biodiversity. It was created in 2010 by Canevaflor.
Another plant wall, "The Wall", was created in Place Saint Jean in November 2010 as part of Biodiversity Year, it is 13 m long and 3 m high, and was organized by the "Continuum Ecologique" Initiative.