Conceived as a true urban refuge specialising in finding your centre, ÔYOSOY® combines in a single, same location a set of disciplines and natural therapeutic practices allowing anybody and everybody to keep healthy and boost their vitality.
Archives | Last updated date : 07/12/2021
Open Mon.: 11:30 AM-7:30 PM From Tue. to Fri.: 9 AM- 7:30 PM
ÔYOSOY - Well-being and health centre 24 rue Childebert - 69002 Lyon 2ème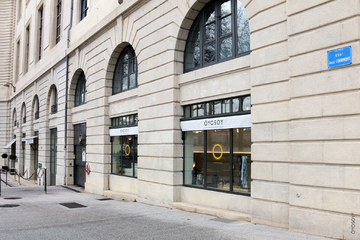 Ideally located on the Presqu'île, near the Grand Hôtel-Dieu, ÔYOSOY® is a new, one-of-a-kind address. In a timeless 250m² setting, ÔYOSOY® proposes a unique alternative medicine practice and education programme, headed up by a team of qualified, kind and understanding professionals. This synergy of skills allows ÔYOSOY® to accompany everyone on their personal quest to improve their well-being.

Via a holistic approach, considering the individual in their globality, based on the 3 indissociable components necessary for balance: physical, mental and emotional aspects, ÔYOSOY® offers a wide range of additional disciplines that any- and everyone can try if they need or want to:
>Group activities: more than 20 disciplines proposed such as Yoga, Pilates, Qi Gong, Stretching, etc.
>Well-being and health workshops: monthly programme covering a range of themes to better handle your everyday life.
>Massages: relaxing, regenerating and ÔRIGINAL to relax body and mind.
>Individual appointments: Osteopathy, Sophrology, Naturopathy, Nutrition, Hypnosis, Coaching, etc.
>Custom courses: 9 bespoke care courses available.

The concept's other USP is its treatment protocol. Based on its expertise, ÔYOSOY® combines and reinterprets the best techniques to successfully create a range of "signature" treatments called FLÔW, including an innovative range of massages and group activities. A unique and inspiring sensory experience to find your centre.

Create your own happiness…
Useful tips
Openings

---
Open Mon.: 11:30 AM-7:30 PM
From Tue. to Fri.: 9 AM- 7:30 PM
Sat.: 9 AM-5:30 PM.
Closed on bank holidays.
Accessibility

---
Accessible for self-propelled wheelchairs
ÔYOSOY - Well-being and health centre
24 rue Childebert - 69002 Lyon 2ème