At the foot of the Tour Rose, in the very heart of the old part of Lyon, Brochier Soieries - La Soierie de Saint-Jean offers its collection of silk scarves and ties created and printed in our printing factory in Lyon. Discover our second shop at 21 rue du Bœuf.
Archives | Last updated date : 26/03/2021
Open daily: 10:30 AM-1 PM and 3 PM-5 PM. Closed on Jan. 1st and Dec. 25th.
BROCHIER SOIERIES - Vieux Lyon 16 rue du Boeuf La Tour Rose - 69005 Lyon 5ème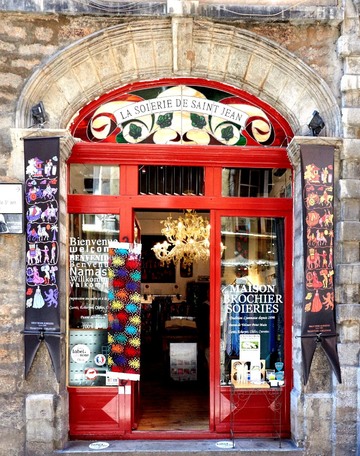 Since 1890 Brochier family has been handing down a tradition born in the 16th century : manufacturing exceptional fabrics and printing artists scarves. Four generations followed one another since the creation of the factory, combining a deep taste of arts and crafts and a keen artistic sensitivity. Brochier Soieries archive is rich of more than 100 000 textile designs representative of all periods and all art styles.

As Cédric Brochier, 4th generation of the family, affirms: " We are proud to say that since 1890 our silk fabrics are created, produced and entirely finalized in France and especially in Lyon, by our expert and passionate hands, in the spirit of the tradition and the high quality, which, nowadays still defines the products labeled Made in France."

Our scarves are traditionally silk screen printed and the Jacquard weaving technique is still used for our woven scarves and neck ties.

By turning the pages of our unique catalogue, where Dufy meets Monet, Van Gogh, Picasso, Frieda Khalo, Cocteau, Combas or Basquait, we are allowed to be inspired by their genious transposed on one of our scarves or ties of natural silk. You will find in our shop the complete catalogue and the new collection, More than 500 artist designs, results of our collaborations with art galleries, art foundations, museums and artists all around the world.
Useful tips
Openings

---
Open daily: 10:30 AM-1 PM and 3 PM-5 PM. Closed on Jan. 1st and Dec. 25th.
Accessibility

---
Accessible for wheelchairs with assistance
Additional information

---
Pets allowed on leash. Spoken language: Romanian.
BROCHIER SOIERIES - Vieux Lyon
16 rue du Boeuf La Tour Rose - 69005 Lyon 5ème