Socially engaged drama
From the 16th to the 27th of October 2019, theatres around the Lyon urban area will be welcoming drama that has a sense of urgency.
Archives | Last updated date : 29/10/2019

Past event
From 13/10 to 30/10/2021 daily.
Différents lieux Différents lieux - 69123 Lyon
"The theatre offers a perspective. Everything that exists in the world, in history, in life, in man, everything can and must be reflected in it, but subject to the magic wand of art." (Victor Hugo)
At a time when news stories are rarely joyful or optimistic, the festival Sens Interdits continues on its path, in the company of authors and directors from all over the world. Armed with drama, they express their daily lives, and their questions about the world around them, again and again. Drama can be experienced as an antidote, a counterbalance to news stories that are depressing and sometimes simplistic.
The three series of the 2019 festival, devoted to Russia, Mexico and Africa, provide food for thought and debate. Presented in their original languages, with French subtitles, these theatre works explore major topics, including work, women's resistance and conflict.
In order to offer a richer experience of the works, meetings, debates, lectures and performances will be accessible for free, in particular under the marquee on Place des Célestins.
The theatre works here offer a different way of looking at the major problems faced by our world – sometimes raw and direct, and other times optimistic and humanistic.
Eléonore is the romantic member of the team! Rumour has it that she knows her classics better than anyone else, and if you want to strike up a conversation with her, just mention Jane Austen, and you'll be away!
Useful tips
Openings

---
From 13/10 to 30/10/2021, daily.
Prices

---
Pass Festival : € 9 to € 17
Pass Student : de € 6 to € 10 (-28 years old).
Différents lieux
Différents lieux - 69123 Lyon
You like it? You might also enjoy...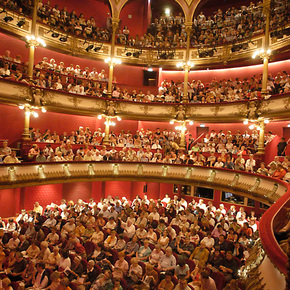 As a shrine to dramatic art for more than two centuries, it is a stunning example of an Italian theatre with its horseshoe shaped galleries, its red...