Each Pentecost weekend, the crème de la crème of Boule Lyonnaise (Lyonnais boules) does battle on Place Bellecour.
Archives | Last updated date : 11/06/2019

Past event
From Saturday 4 to Monday 6 June 2022.
Place Bellecour Place Bellecour - 69002 Lyon 2ème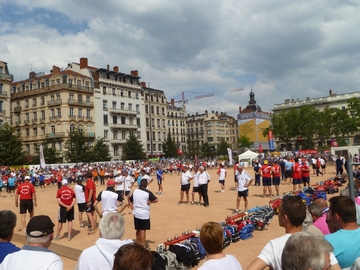 Every year, the ceremony is the same. Terraced seating on Place Bellecour, pitches, the sound of boules on the wooden barriers, focused teams running and tossing… and amazed tourists wondering what on earth this strange spectacle could be!

You will find no pétanque here, thank you very much! During this three-day event, which has been held for the past 107 years, Lyon is the French capital of 'Boule Lyonnaise', or 'la longue'. Created in Lyon in the eighteenth century, this sport is the ancestor of pétanque and is highly popular in the region.

The 'Tournoi de Pentecôte' is the major tournament, drawing teams from all over France and even abroad. More than 14,000 participants take each other on, under the gaze of Louis XIV, until the grand final on the Monday!
Useful tips
Openings

---
From Saturday 4 to Monday 6 June 2022.
Prices

---
Place Bellecour
Place Bellecour - 69002 Lyon 2ème