Where are you on October 14th, 15th, 16th and 17th, 2021? Book your weekend, we make it fascinating ... Visit, discover, smell, taste and be fascinated throughout the Beaujolais Wine Route!
Archives | Last updated date : 15/10/2021
From Thursday 14 to Sunday 17 October.
Destination Beaujolais Maison du Tourisme 96 rue de la sous-Préfecture - 69400 Villefranche-sur-Saône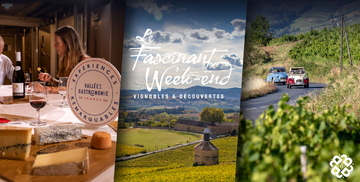 Experience the Fascinating Weekend through festive and fun events, but also unusual and unique ones!

Along the Wine Route, explore the exceptional landscapes. The athletes, gastronomes, music lovers and other aficionados will harmonize with the richness of the universe of the vineyard.
Destination Beaujolais
Maison du Tourisme 96 rue de la sous-Préfecture - 69400 Villefranche-sur-Saône