Degas, Christo, Michel-Ange, Rodin, Man Ray, Dürer...
From 30 November 2019 to 8 March 2020, the exhibition at the Musée des Beaux-Arts (Museum of Fine Arts) looks at the study of drapes, often depicted in the world of art, whether in drawings, paintings or sculptures.
Archives | Last updated date : 10/03/2020
Drapes have always been regarded with fascination, as they both conceal and reveal forms, with sensuality and gentleness, elegantly preserving the modesty of nudes. However, this fascination also requires the mastery needed to give the impression of fluidity and volume.
The exhibition looks at these questions, as well as the techniques of the artists, the play of shadows and light, the impression of volume and movement, by displaying many drawings by masters of the Renaissance to the present day, such as Dürer, Michelangelo, Poussin, Gustave Moreau, Ingres and Degas, as well as paintings, photographs and sculptures, including works by Rodin...
Admission to the Museum and its exhibition is included in the Lyon City Card.
Isabelle, our editor born and bred in Lyon! She was born in Sainte-Foy-lès-Lyon in fact, studied in Lyon and now lives here. Territorial? Absolutely not! She loves travelling, widening her horizons, meeting new people and enjoys a change of scenery (without snow, if possible). Isabelle is curious and a people person, two attributes that often go hand in hand! Her favourite colour is green and her motto "a day without laughter is a day wasted!" 
You like it? You might also enjoy...
Discover the unexpected charm of  touring a museum at night.  The light and atmosphere are completely different during the evening...
In a former 17th-century abbey, the museum boasts one of the largest collections of European works of art (Véronèse, Rubens, Rembrandt, Poussin,...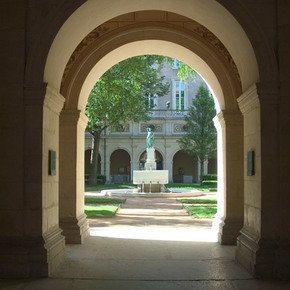 Classical 1200 m² garden created at the end of the 19th century. The secular walls of the former abbey protect passers-by from the noise from outside.